Tap on the specific topic to open more information.
The Conference Venue is Hotel International in Zagreb, Miramarska 24, located in the heart of the business district.
Hotel International offers comfortable accommodation for business guests as well as those who visit Zagreb on holiday. Spacious hotel rooms and luxurious Hotel International suites guarantees your stay in Zagreb will be more than comfortable and enjoyable. Minutes away from Zagreb main attractions and cultural sites, hotel International is the ideal hotel to stay if you wish to get to know Zagreb better.
We have arranged special accommodation rates in Hotel International for seminar participants. For booking your accommodation please contact natasa@ati.hr
The conference will be held in the Hotel International Conference Room Adriatic.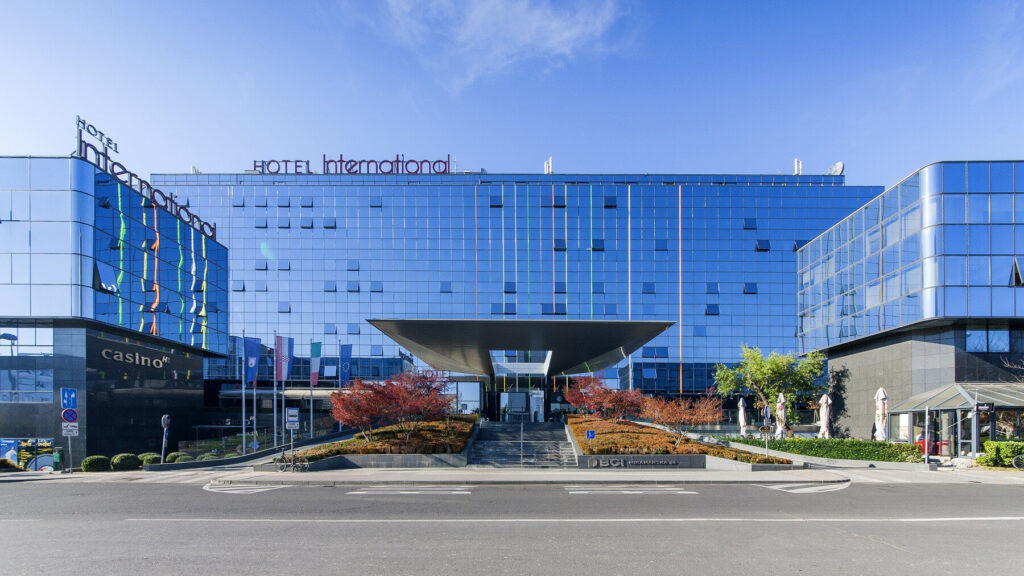 Distances
City centre: 1.5 km
Main train station: 400 m
Bus terminal: 2 km
Store: 400 m
Post office: 500 m
How to reach the International Hotel
By bus
Official transport company on the route from Franjo Tuđman Zagreb Airport to the main bus station in Zagreb www.akz.hr
The bus timetable is adjusted to the flight schedule of the aircraft.
For prices and bus schedule, see the link https://plesoprijevoz.hr/zagreb/
By car
Address: Miramarska 24b, 10000 Zagreb Croatia
GPS COORDINATORS: N45 ° 47 '57.7' ', E15 ° 58' 26.6 "
Taxi
A taxi service is available in the arrival area of the passenger terminal, ground floor, at the following maximum rates:
ZAG – HOTEL INTERNATIONAL 15 km approx. 220 HRK
The city of Zagreb is located in northwestern Croatia. It stretches from the southern slopes of Mount Medvednica right across the river Sava. Zagreb's street plan reveals the city's multiple identities. The historic centre nestles among hilly meandering streets that blend in with the surrounding greenery. The newer parts of the city are more spacious, with broad avenues ideally suited to the flatlands beside the river. Eventhough on the map, it seems to be rooted well inland, the Mediterranean breeze is never far away, especially in the way the city lives.
The fusion of Central European and Mediterranean lifetsyles makes Zagreb a metropolis where everything is just around the corner. It is an urban patchwork such as this, where some areas fizzle with energy and others are tranquil and balmy, that everyone gets a piece for themselves.
Getting around
One of the Zagreb many advantages is its location. The city is anchored between Central and Southeastern Europe as well as the Adriatic Sea, thus making it an important transport hub. Travelling by plane or land, Zagreb provides easy access to all major Croatian cities as well as the capitals of neighbouring countries. The airport is 15 km from the city centre and can be reached by bus or taxi. Zagreb's central railway station is only 10 minutes walk or two tram stops away from Ban Jelačić Square. The main bus station is as well close to the centre, to which it is well connected by tram.
Distances by land
Zagreb – Vienna / 375 km
Zagreb – Budapest / 345 km
Zagreb – Venice / 380 km
Zagreb – Belgrade/ 395 km
Zagreb – Ljubljana/ 140 km
Zagreb – Split/ 410 km
Travel info
If you need assistance in organizing your journey to Croatia, feel free to contact our PCO agency at:
avio@ati.hr – flight tickets
transfer@ati.hr – airport transfers.
FRANJO TUĐMAN AIRPORT
Information: +385 60 320 320
www.zagreb-airport.hr
Timetable for buses operating between Airport and the main bus station: www.plesoprijevoz.hr.
MAIN BUS STATION
Avenija Marina Držića 4
Information: +385 60 313 333
www.akz.hr
CENTRAL RAILWAY STATION
Trg Kralja Tomislava 12
Information: +385 60 333 444
www.hzpp.hr
ZAGREB CARD
There are two types of Zagreb Card; a 24-hour and a 72-hour one. Both include free public transport and entry to six top attractions as well as discounts for 70 other points of interest, such as museums, restaurants, shops and many more. More information available at www.zagrebcard.com.
Main post offices
Jurišićeva 13
Tel. +385 166 26 452
(Mon-Fri: 07:00 – 20:00; Sat: 07:00 – 14:00)

Branimirova 4
Tel. +385 149 81 550
(Mon-Sun: 07:00 – 24:00)
Visa regime in Croatia
Information about the visa regime between Croatia and all other countries is available at the Ministry of Foreign and European Affairs official webpage, www.mvep.hr.
Invitation Letters for needs of Visa application can be requested by email once the registration has been completed online. If you require a supporting Invitation Letter, please contact us at 183eaae@agr.hr for further assistance.
Useful information
MONEY
Croatian currency is called Kuna (HRK).
Currency denominations include:
Coins: 1, 2, 5, 10, 20, 50 Lipa; 1, 2, 5 Kuna
Notes: 10, 20, 50, 100, 200, 500, 1 000 Kuna
1 Kuna = 100 Lipa

Money can be exchanged at exchange offices, banks, post offices and hotels. Most retailers and service providers in the hospitality industry accept credit cards.
LOCAL TIME
GMT + 1 hour
OFFICIAL LANGUAGE
Croatian
WEATHER
Zagreb has a moderate continental climate with four separate seasons. Summer is usually hot and dry with average temperatures between 20-25 °C. Winters are fairly cold with temperatures between 1-5 °C. The warmest months of the year are July and August while the coldest are January and February. In the beginning of September, during the congress, the temperatures are expected to be in the mid 20s °C during the day. Average number of rainfall days in September is 10.4 days.
ELECTRICITY SUPPLY
220v, 50Hz.
Standard European two-pin plug
WATER
Tap water in Zagreb is safe for drinking.
IMPORTANT TELEPHONE NUMBERS
112 General Emergency
192 Police
193 Fire Brigade
194 Ambulance
11802 International Information
18981 General Information
0800 53 53 Zagreb Tourist Information
INTERNET
There are more than 20 Wi-Fi hotspots around Zagreb that offer free internet provided by the city wireless network.
We will keep you informed on any new COVID-19 regulations.
If you have any questions regarding COVID-19 measurments or travel restrictions, please contact us
For the latest information on COVID-19 cases and epidemiological measures in Croatia, please visit:
or
https://www.croatiacovid19.info/
Useful information for travellers: https://entercroatia.mup.hr/